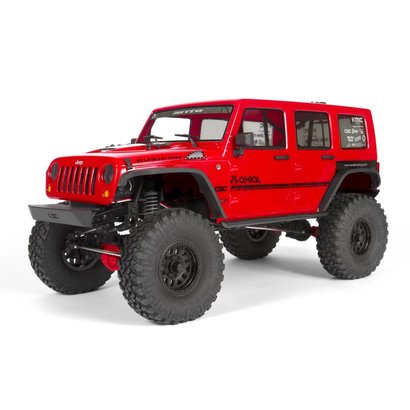 Axial
AX90060 - Axial 1/10 SCX10 II '17 Jeep Wrangler Unlimited CRC RTR
ax90060
Availability:

Out of stock

Delivery time:

1 - 4 Weeks
Product description
Brand:

Axial

EAN:

0816874017408

Article number:

ax90060

Availability:

Out of stock

Delivery time:

1 - 4 Weeks
Maximize performance and detail for scale enthusiasts!
The SCX10™ II 2017 Jeep® Wrangler Unlimited CRC edition is a perfect example of that union, matching unparalleled trail-ability with stunning good looks. Some of the specialized parts included are CRC front and rear bumpers, unique rock rails with additional body-mounting points, molded front and rear fenders and a CRC-inspired hood. Additional external scale features consist of molded side mirrors, door handles, windshield wipers, hood latches and a full set of lights (six in total) that mount into a realistic front radiator/light bucket combo.
Detailed 2017 Jeep Wrangler Unlimited body
Molded fenders and body details
CRC front and rear bumpers
CRC rock sliders
1.9" KMC Machete wheels
1.9" Nitto trail grappler tires
Chassis mounted servo
Front mounted battery
Waterproof receiver box
SCX10 LC transmission
AR44 Hi-Pinion Axle
All metal links
HD metal CNC cut diff gears
Tactic 3-channel radio
Tactic TSX45 servo
New Ae-5L ESC with light ports
35T brushed motor
LED lights in body
AR44 HI-PINION AXLES
In 2008, the AX10 axle was used in the launch of the SCX10™ chassis platform. After seven years of utilizing the original AX10™ axle and two years of development, Axial is proud to introduce the newly developed AR44 axle with the industry's first high pinion gear set. The next chapter of the Axial SCX10™ begins with scale realism backed with true technological development!
High pinion gears for added ground clearance & better driveshaft angles
The high pinion design allows increased gear surface contact for increased durability
Larger load bearings used around the gear set to reduce flex and create a stronger drivetrain
Single piece axle housing for added strength
1-piece all-metal locker front and rear
Small pumpkin for increased clearance and a more realistic, scale look
Bolt on link mounts
Knuckle carriers and straight axle adapters have a better mounting system with 10-degree increment adjustments
Optimized gear ratio 3.75 compared to 2.92 previously. This reduces torque twist which is typically seen with other small pumpkin axle designs
KINGPIN ANGLE
Improved scrub radius over the AX10 axle
AR44 UNIVERSAL AXLE SET
Universal joint axles allow up to 45 degrees of steering and provide smoother action for a higher performing, efficient drivetrain.
Ready to Run SCX10 II 2017 Jeep Wrangler Unlimited CRC 4WD.
Chassis: Scale steel C-channel side rails with adjustable body mount,
adjustable bumper mounts with swaybar mounting points, mounting
points for optional 2-speed and servo winch, adjustable chassis
mounted servo system
Drive: Full time 4WD locked drivetrain with WB8 HD Wild Boar
driveshafts, UVJ style front driveshafts for up to 45° of steering
angle, full ball bearing drivetrain
Transmission: AX10 three gear layout, metal motor plate, adjustable
ratio for high speed or competition level crawling speed
Slipper Clutch: Dual pad design for added surface area, 32P gear
pitch for high-torque applications
Motor: 35 turn, brush equipped, water resistant, integrated cooling
fan
Radio: Tactic TTX300 3-channel SLT radio with TR325 Receiver,
programmable 3rd channel for operating two speed transmission
winches or lights
Steering Servo: Tactic TSX45 metal gear, water resistant, 151oz/in
torque rating, dual ball bearings
ESC: AE-5L waterproof, switchable between LiPo or NiMH
operation with a simple jumper, Star plug battery connector,
built-in LED light controller (NOTE LED leads are not compatible
with old Axial LED light strings, or third party LED light strings
Spur Gear: 56T 32-pitch, plastic construction
Pinion Gear 15T 32-pitch, steel construction
LED Lights: Four white for head lights and turn signal markers, and
two red lights for tail lights
Battery Tray: Easy access front mount, accomodates batteries up to
1.2 x 1.7 x 5.8" (32x44x147mm) 3S, 5000mAh
Front and Rear Axles: Hardened steel
AR44 Hi-Pinion Axle: Hypoid cut CNC metal gears, optimized gear
ratio for reduced torque twist, optional gearing choices, one-
piece axle housing, increased clearance, larger load rated
bearings for durability, 8° kingpin axle eliminates tire scrub,
single piece axle housing, one-piece all metal locker, 10°
increment adjustments for knuckle carriers and straight axle
adapters, optimized gear ratio; 3.75 compared to 2.92 previously,
for less torque twist
Body: Painted 2017 Jeep Wrangler Unlimited CRC
Wheels: 1.9" KMC XD 229 Machete Crawl wheels, molded composite
construction, black in color, 1.02" (26mm) wide, 2.12" (53.9mm)
diameter, 12mm hex
Tires: 1.9" Nitto Trail Grappler M/T, S30 compound with large blocks
for excellent bite in all terrain 4.7" (119.4mm) 1.9" (48.2mm)
wide
Shocks: Coil over, oil filled, steel springs, white in color
Suspension: Optimized suspension geometry with integrated mounts
upper and lower aluminum links, 4-link design reduces axle steer
and torque twist, and guards against suspension wrap-up in high-
power applications, all steel links
Steering: Proper CMS geometry using 3-link setup with panhard bar,
45° steering angle
Bumpers: Scale front and rear bumpers and rock sliders licensed by
JCR Offroad, lenses in bumpers for light kit (light kit not
included)
Warranty: Axial warrants this kit to be free from defects in
materials and workmanship when new. This warranty does not cover
damages due to normal wear and tear, user's failure to perform
routine mantenance, user error of assembly or installation, user
modifications, addition of aftermarket parts or option parts.
RTR SCX10 II Jeep Wrangler Unlimited CRC with Oil-Filled Shocks,
Wheels, Tires, Painted Body, Rock Sliders, Radio, ESC, Motor,
Decals. Waterproof Receiver Box, LED Lights and Instruction
Manual
Battery: 6-cell NiMH or 2-3S LiPo
Battery Charger: Compatible with selected battery
Building and track equipment
Vehicle-
Length: 19.25" (489mm)
Width: 8.9" (226mm)
Height: 9.4" (223.4mm)
Wheelbase: 12.3" (312.4mm) adjustable with optional link kits sold
separately
Ground Clearance: 3.0" (77mm)
Weight: 4.5lbs (2.04kg) approximately, with electronics
Optimized Gear Ratio: 3.75:1
Final Drive Ratio (FDR): 40.44, stock
(33.69-54.15 with different spur/pinion gear combinations, extra
spur and pinion gears must be purchased separately)
Body-
Length: 17.2" (438mm)
Width: 8" (203mm)
Height: 5.5" (140mm)